Until 1975, Culebra was an active Navy range for training. As such, the area was off-limits to boating and marine activities. Because of this history , most of the reefs are in excellent condition and marine life is abundant everywhere.

The small islands around Culebra are protected by the U.S. Fish and Wildlife Service. These islands and other rock out cropings offer over 50 dive sites with some very dramatic scenery

Photographers love it here, both on land and underwater. Schools of Angelfish, Spade Fish, and Spanish Gruts are so plentiful that you cannot help but have several "models" to work with! There are fan corals 4 to 6 feet across, soft Gorgonians and Sponges of the most beautiful colors imaginable.

According to Richard Cantwell, from Culebra Dive Shop, "there are a variety of reefs to choose from and you can help me by tclling me a little about the type of diving you have done and what you would like to do. The depths vary from the average 40ft.to75 ft.on deep dives. There are over 50 dive sites to choose from so that you will be able to see a variety of reefs to suit your desires. You can choose from a beginner's Resort Course to more skilled advanced diving."
DIVE SITES
Among the principal sites, you will have the following:



Impact Area
Excellent shallow reef, 15 to 45 ft. deep. Big Sea fans, schools of reef fish, Blue Chromis, Trumpet Fish, Damsels and many more.

Arch Dive
Large rock boulders with one worn over time in the shape of an arch. Depths to 50 ft. with beautiful corals growing on the rocks and schools of fish hovering everywhere.

Amberjack Hole
A rock reef cleaning station with a huge boulder sometimes completely covered with fish. Lots of French Angelfish, French grunts, and Trigger Fish. Depth of 65ft.

Anchor Reef
Open water dive with depths from 50 to 75 ft. This was in an area used by the Navy for anchoring and many bottles and interesting "artifacts" can be found! There is a chain and anchor laying stretched out on this reef.

Sail Rock
This is an exceptional dive, fish galore. Great visibility, pinnackels from the surface to 120'. Swim with turtles, stunning coral and an abundant of marine life.

Tug Boat
90 foot long tug boat in 40' of water creates a marine habitat for all types of sea life.

Richard Cantwell, from Culebra Dive shop, tells us that the above are just "a few examples of the types of reefs and terrain you will see diving here. However, there are many more, so let me know what you would like to see. All dives are good for photography!! Don't forget your close-up and macro kits."


Getting to Culebra is easy from Puerto Rico . There are several small airlines operating from San Juan and Fajardo.
There are 3 ferries a day which leave from Fajardo, a town one hour east (by car) of San Juan.
Private airplane charters are available and can be arranged from both San Juan airports and Fajardo.
Check into another section of the Tamarindo Estates website for airline and ferry schedules.
For information to fishers about regulations and helping the recovery of the stocks and the sustainable use of marine fishery resources in the Caribbean regarding the Queen conch, reef fish, Spiny Lobster, Tunas, sharks, Billfich, swordfish, and others. please visit the Regulations Guide for Fishing in Puerto Rico and the US Virgin Islands.

For more information on DIVING, SNORKELING, and FISHING TOURS contact:


Culebra Divers, 787-742-0803

Capt. Taz Hamrick 787-209-3494, 787-742-0605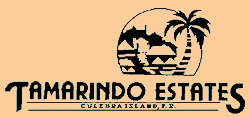 P. O. Box 313, Culebra, P.R. 00775, Tel. 787-742-3343