Mobile Version
OFFICIAL SITE for
TAMARINDO ESTATES BEACH APTS.
P.O. BOX 313, CULEBRA, PR 00775, PH. 787-742-3343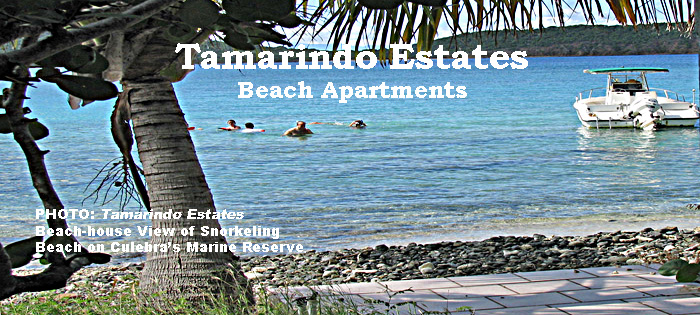 | | |
| --- | --- |
| | |



| | |
| --- | --- |
| | |
You can only check availability and BOOK DIRECT with us here, the OFFICIAL SITE for Tamarindo Estates. You cannot book or check availability at booking agents like Booking.com, Expedia.com, TripAdvisor.com, flipkey.com, priceline.com, etc.


Tamarindo Estates is the best deal in Culebra. Don't be misled by inexpensive offers that turn out to be "cheap deals". While we are not a luxurious place, we offer the luxury of seclusion. At the same time, we are an easy 5 minutes from town, restaurants, grocery stores, or in the other direction, the popular Flamenco Beach. Click here for a location image.

Tamarindo Estates

is a beachfront property that offers serenity, beautiful ocean views, and private access to the best walk-in snorkeling.

Avoid being lodged where you are surrounded by noisy neighbors, streets, airport noise, and passing cars. Rather, choose to be surrounded by a 60-acre estate of undeveloped natural greenery on a secure, gated, beautiful property.

We offer superiority in cleanliness, as well as caretakers that live on the property, available 24/7 to make your stay enjoyable.




Our hosts are waiting to make you part of our ever growing family of repeat guests.
| | |
| --- | --- |
| Partial view of Tamarindo Estates | Tamarindo Estates snorkeling beach |


CULEBRA ISLAND INFORMATION:

There are no passports or visas necessary for U.S. citizens arriving directly to Culebra Island or Puerto Rico from the United States. U.S. citizens can travel between Puerto Rico and the United States without going through immigration or customs check points. Culebra is one of Puerto Rico's off-shore islands, 10 miles square in area and 17 miles east of Puerto Rico. It is located midway between P.R. and St. Thomas, U.S.V.I. Presently there are about 3000 residents on the island. Culebra was discovered by Christopher Columbus in 1493 and was under the Spanish flag until 1898 when Puerto Rico became part of the United States. Presently, the Commonwealth of Puerto Rico enjoys a special status of self-government under the U.S. flag.


Culebra is an unspoiled divers' and beachcombers' paradise, also coveted by bird watchers. If you are looking for a quiet, relaxing vacation, beautiful beaches, good diving and snorkeling, a laid back atmosphere, and away from the tourist scene, Culebra Island is the place to come!




| | | | | |
| --- | --- | --- | --- | --- |
| Click on the image to zoom in | | Aerial View Tamarindo Estates | | Satellite night photo - Click to enlarge |
TRANSPORTATION TO CULEBRA ISLAND:

For visitors coming from abroad, the fastest way to reach Culebra is via San Juan, Puerto Rico. The flight from New York to San Juan (SJU) takes 3 1/2 hours; from Miami to San Juan it's 1 1/2 hours. San Juan International Airport (SJU) is served from the U.S. Mainland by American Airlines, Delta, US Airways, Continental, Northwest, Spirit Air, and United. From the rest of the world, San Juan (SJU) Airport is served by Air Canada Vacations, Canadian Airlines, British Airways, Lufthansa's partner Condor, Copa Airlines, and LACSA-Group Taca.


There are basically two ways of travelling from the 'Big Island' of Puerto Rico to Culebra. You can either take an airplane or take the passenger boat. Flying to Culebra is usually the most hassle free option, and in 35 minutes you can get from San Juan to Culebra. Flying in from San Juan to Culebra is in most cases the only way to be able to check in into your hotel the same day of your flight from abroad. There are several daily flights arriving in Culebra from San Juan Isla Grande Airport (SIG) on Air Flamenco (787-724-6464) and on Vieques Air Link (787-722-3736, 787-741-8331, 1-888-901-9247). Click here for more airline information and ferry schedules. WE RECOMMEND OUR VISITORS TO FLY TO CULEBRA FROM MAINLAND PUERTO RICO, INSTEAD OF TAKING THE BOAT.


Cost of boat vs. flying in: If you are coming to Culebra from San Juan, whether the boat or airplane is less expensive would depend on the number of people in your party. The boat between Fajardo to Culebra costs $2.25 each way, and the San Juan-Fajardo taxi costs about $80 each way. If you are a party of one person, flying in would be cheaper by about $22.25 ($60 for plane vs. $82.25 for the taxi + boat.) For a party of two people, the plane would cost $35.50 more ($120 for the plane less $84.50 for the taxi and boat.)


However, if you are flying in from abroad and want to take the passenger boat to Culebra to check-in at Tamarindo Estates that same day, you would need to land into San Juan not later than 12 Noon. This would normally allow sufficient time to get your luggage and then the taxi to the Fajardo ferry dock. The last boat you may take and still be able to check in at the hotel departs Fajardo at 3:00 PM.

| | | | |
| --- | --- | --- | --- |
| Twin-engine Islander | Culebra airport terminal. Click on the image to enlarge. | Click on the image to enlarge | Some of the Culebra ferries |
OUR ACCOMMODATIONS AND SURROUNDINGS:

Tamarindo Estates is a small, intimate, and unique resort. All our rental units are kitchen-equipped. There are one- and two-bedroom apartments. You will feel a deep sense of privacy and tranquility, as there are only 12 apartments in the midst of its 60 acres of virgin and undeveloped land. Each 1-BR kitchen-equipped apt. has a 480 sq. ft. (45 sq. mt.) footprint. The resort is nicely secluded, yet it is an easy 5-minute drive from town. Our charming and cozy apartments have air-conditioned bedrooms. For those who enjoy natural air, the villas also have ceiling fans, and are screened. Each apartment has its own bath with shower, a separate living-kitchen area with an electric cooktop, refrigerator-freezer, microwave oven, flat screen HDTV, and a roofed deck to sit and enjoy the ocean views. These apartments stand high on a hill, a bit farther inland, affording while sitting on the roofed deck, great ocean views and of other offshore cays. Typically there are three independent attached apartments. (Typical floor plan.). Wi-fi is available in public areas and is free of charge.We have a staff of friendly caretakers living on the resort's premises to help you have the most pleasant stay at the Estates and the best Culebra, Puerto Rico vacation ever. These are self-catering accommodations. We provide you with a nice, clean villa, with silverware, cookware, towels, and bed linen. In order to keep rates down, we do not provide housekeeping service. We do not offer luxurious lodging but a nice, quiet, comfortable, secluded, and friendly apartment hotel with simple, though comfortable accommodations in a most remarkably beautiful natural environment.


Tamarindo Estates is the only hotel on Culebra's Marine Reserve
A CLOSER LOOK AT OUR ACCOMMODATIONS:

For a photo tour of our hotel facilities, please click here.
.

Culebra, one of Puerto Rico's beautiful off-shore islands, is 10 square miles in area and located 17 miles east of Puerto Rico, midway between P.R. and St.Thomas, U.S.V.I.
We hope to see you soon!